Trend Analysis for the Four Major Metros
By: Alex Pace and Colby Boozer
Property taxes per square foot on office buildings continue to increase across the state of Texas. In the four major metros, increases were found from 2020 to 2021 throughout Dallas-Fort Worth, Austin, and San Antonio, with Houston being the lone exception. While property values and the subsequent taxes are rising, tax rates in these markets are decreasing. This can be attributed to new legislation (SB-2) passed in 2019 capping Independent School District City and County year-over-year revenue increases.
When further analyzing the market data, we find that A-Class office properties are driving the rise in taxes. Appraisal Districts throughout Texas attributed a bigger impact from COVID-19 on B-Class office properties, leading to lower taxes in 2021 for this subset of product. Invoke anticipates Texas property tax rates to continue to decrease year-over-year and A-Class office properties to continue to realize assessment increases in 2022.
Key Takeaways

Dallas-Fort Worth
Dallas-Fort Worth property taxes increased for A-Class office properties, while B-Class slightly decreased. Dallas-Fort Worth has a diversified office tenant market, which have allowed assessments to remain stable during COVID-19.
Houston
Houston was the only Texas Metro to see a decrease in property taxes for office buildings. This can, in part, be credited to a tenant market heavily laden with Oil and Gas companies, a sector that was hit particularly hard by COVID-19.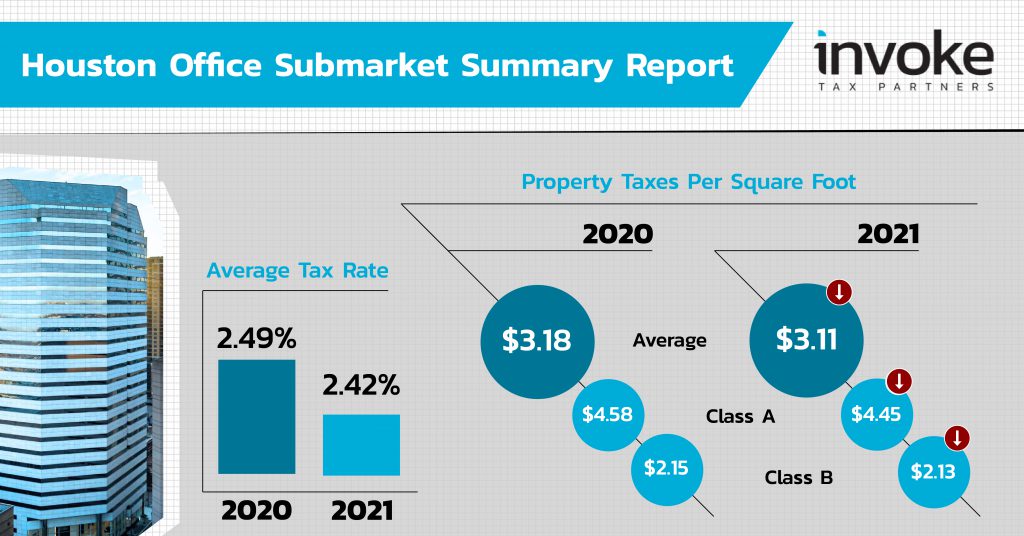 Austin
The rise in Austin's A-class office market can be attributed to the many tech companies continuing to flock to the city for office space. These companies occupy large office leases at high rates. However, Austin's B-Class market struggled. B-Class office properties were particularly hurt with expiring leases and companies/government agencies electing not to renew leases while Texas legislation was out off session.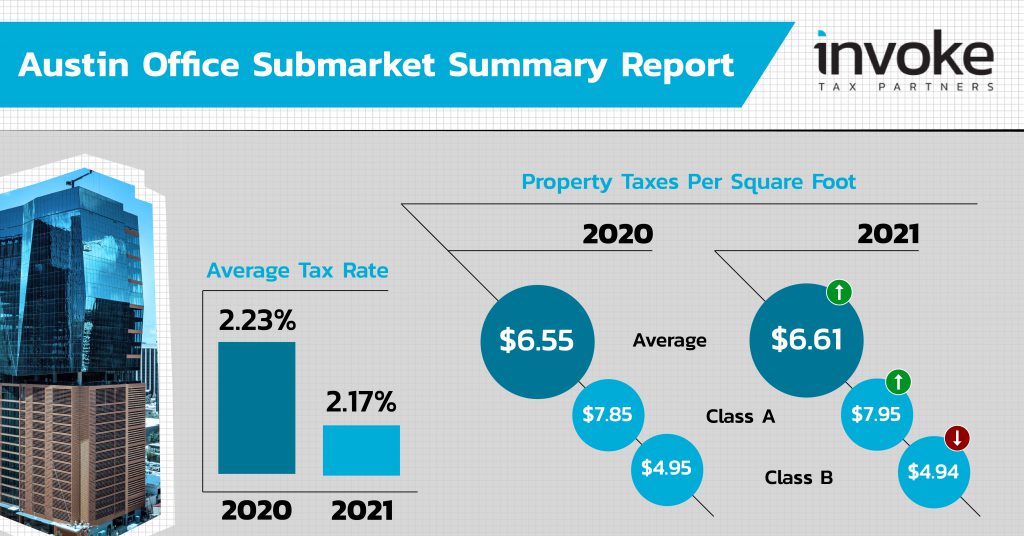 San Antonio
San Antonio's A-Class office market saw the largest increase in taxes of any market. This large increase was due to an aggressive reassessment by the Bexar County Appraisal District and a tax rate that saw the smallest drop of the four Texas metros.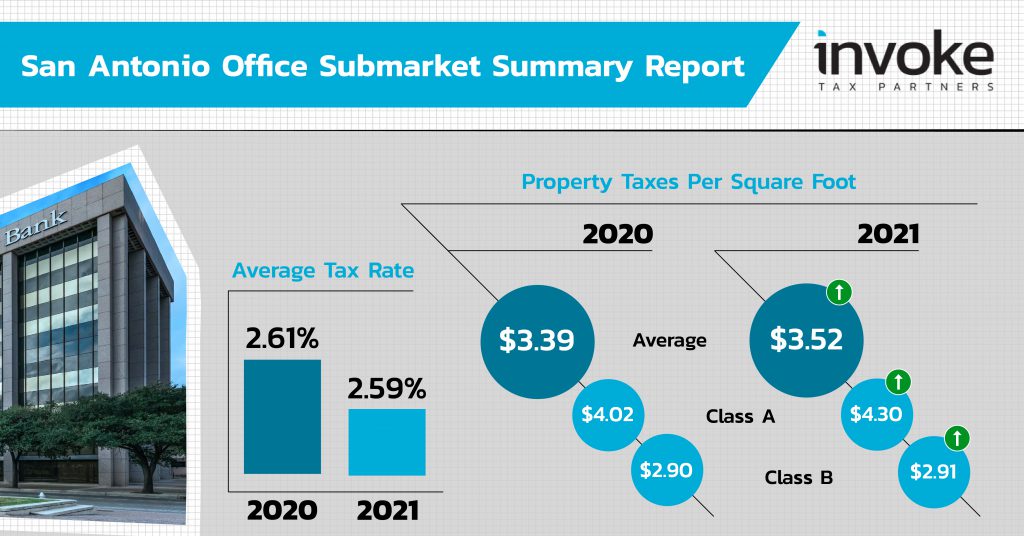 The data used for this report is based upon property data from Appraisal Districts and local taxing entities. All property values were pulled in December 2021. The submarkets and building class are based upon CoStar's defined submarket boundaries and classifications.